See Jumbo Pacific's Newest Products in Our Flipbook Collection .
Close to 10.000 exclusive design in an assortment of styles.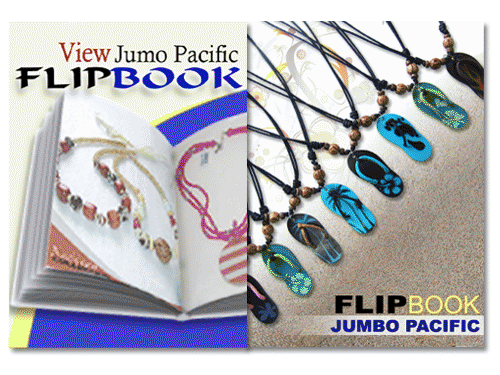 Click on pages,
On main upper menu. Click on MAIN to see much more design , Click on ADD TO CART to select the items and Click on SHOW CART to see your total, Continue to receive your own proforma invoice ,with photo by email.


This message is intended to provide you with the information that you may require.



HOW TO ORDER WHOLESALER/IMPORTER



Just browse our website, and select the items you would like to order, then email us the items details and the quantity you need. You can

make any revision on any items, If you like or tell us the type of products you want. If you cannot find the items you want in our website

just send us a message, a drawing or a picture. Ultimately send us the sample by courier.

We will answer your emails immediately to give you prices and other pertinent information to Place your order.

Our delivery time usually is within 30 days depending of the quantity and design.

You can place your order by email (or fax) just give us your complete company data, we will then fax you a proforma invoice for your

acceptance. When accepted by you, we will start manufacturing your orders.
We can make any style, any colors, any length, any components, shells-coco-woods etc.

We do mostly customers design as well as programs, but generate yourself new collection every week.

Our catalog is our web site. We do not print catalog anymore.
For specific prices, just tell us the item reference No. and quantity you need.
We will quote you right away. If you cannot find the item you need just send us a picture a drawing or a
clear description of what you need, we will quote you the same.

If you are interested in our capiz natural shell tiles and panels.
Can you see here a large selection with prices & sizes.
https://www.jpacific.com/raw_shells/shelltiles/index.htm

If you are looking for components. Here are some of our components charts.
https://www.jpacific.com/components/charts/shell-chart01.htm

As well as here for a nice selection.
https://www.jpacific.com/monthlyspecials/index-aug.html

https://www.jpacific.com/components/components.htm

We are Manufacturer & Exporter, our minimum expedition per order is 3000 US$,for some particular product
derogation can be applied.
Our payment is by bank TT telex transfer, Wire Transfer, unless arranged other way.
Our bank details and others information will be on our proforma invoice.

Regarding shipping cost to your destination, we need first to know what items and what quantity you want to buy in order to evaluate the weight and volume.



Prices and B2B

Online Flipbook



You can see some prices at our new

Online Flipbook

which features nearly 10,000 products & Designs.


"A MUST SEE"

https://www.philippinesnovelty.com/flipbook/index.php

More prices are available at our monthly special main design pages.
Updated every month of the year. You will always find here the latest hot fashion.
https://www.jpacific.com/jumbo_specials_festival/jumbo_specials_festival.html

Just click on the image banners and press "NEXT" at the end of each pages to see more.

We have received in any case your message and we will answer to you with more details.,
To not receive anymore this generated email just contact us next time using

sales@jpacific.com





HOW TO ORDER SMALL QUANTITY



You can order minimum 99 us$ by visiting our retail store at https://www.shellsilver.com
Buying at www.shellsilver.com as well as
https://www.pacificbuy.com/flipbook
All prices are
inclusive of delivery FEDEX door to door to any countries.


We are looking forward to hear soon from you again.

Carlo Spema
Export Manager